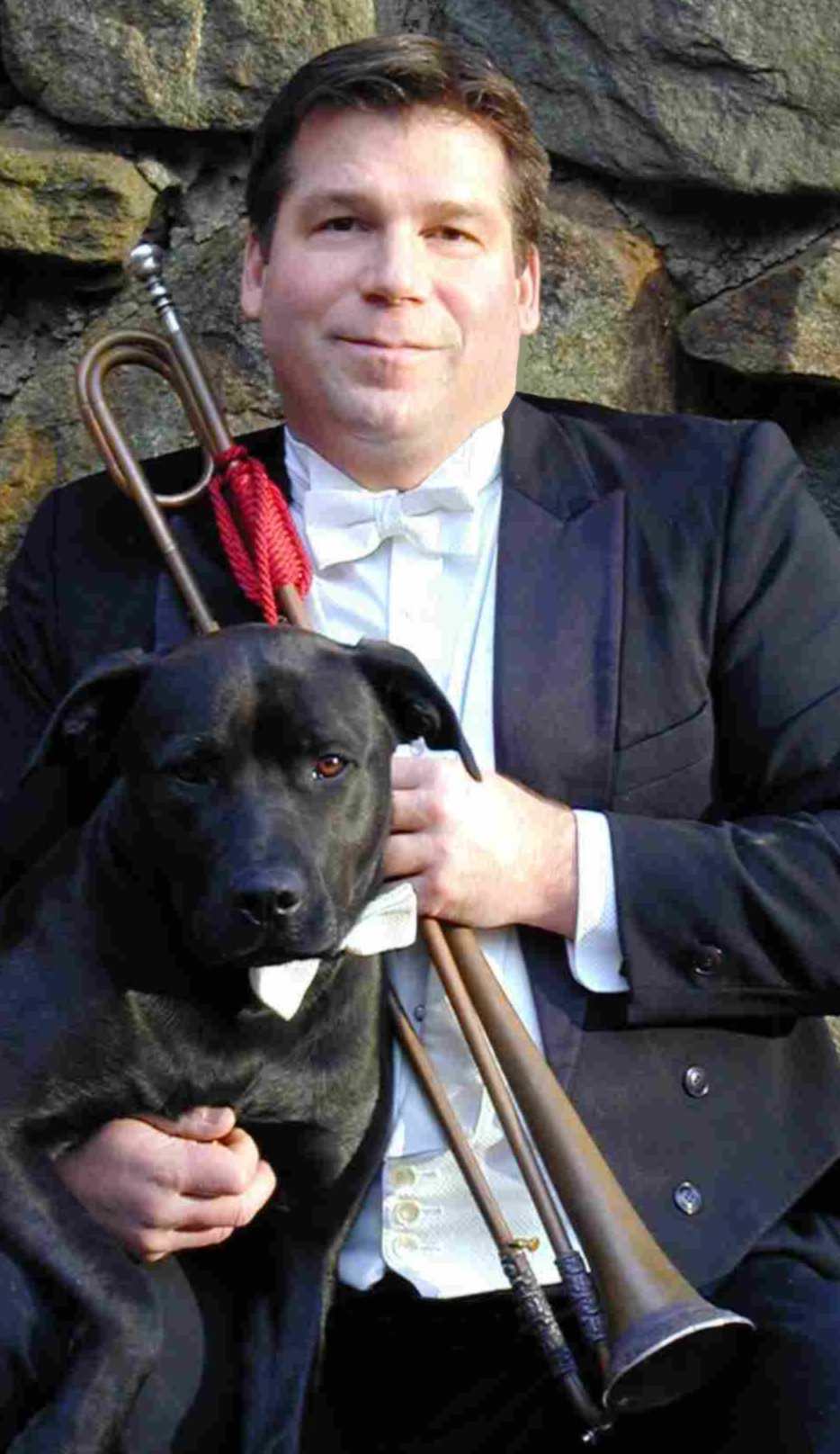 Thom Freas,
Artistic Director of Fanfare Consort
and performer on clarino,
with Frisco, Assistant Artistic Director,
loyal researcher and retriever,
enthusiastic wake-up call and gentle critic.

Thom Freas, founder and Artistic Director of Fanfare Consort, performs on clarino as soloist with many prominent period instrument ensembles throughout the United States and Europe. Mr. Freas has participated in numerous festivals where he performed Bach's Brandenburg Concerto N°2 on clarino and the Haydn Trumpet Concerto in Eb on "keyed" (valveless) trumpet. "Freas delivers exceptionally secure playing. The clarino is a tough instrument, so just having his technique in place puts Freas ahead of many other players. Beyond that, he plays 'musically, with … the harpsichord, and every other instrument." [Fanfare]


Thom is the first American to record Brandenburg Concerto N°2 on valveless baroque trumpet. You can hear that recording with Anthony Newman on Sony Classical and Vivaldi's Concerto for Two Trumpets on the Newport Classics label. He can also be heard on Champignon International, Classic Master, Helicon Records, Koch, Music Masters, Telarc and Vox.

Click here for examples.
Thom studied with Armando Ghitalla, Principal Trumpet Boston Symphony Orchestra; William Vacchiano, Principal Trumpet New York Philharmonic; and Roger Voisin, Principal Trumpet Boston Symphony Orchestra.

A highly sought after teacher, Thom as been on the faculties of and presented master classes at several colleges, conservatories and universities. His students consistently win positions to participate in All-State, All-New England and All-Eastern festivals, as well as national summer music camps/festivals. They continue to occupy principal chairs in youth orchestras in Connecticut, New York and New England. Many have been awarded scholarships to continue their education at the most prestigious music conservatories, colleges and universities. Thom is also an adjudicator for the Baroque trumpet division of the National Trumpet Competition.
You are listening to a portion of Biber's
Sonata in C Major
featuring Thom Freas, clarino, with two baroque violins,
baroque contrabass and harpsichord
Frisco continues her research as E.Lily, appointed as Frisco's assistant on Easter weekend 2004, contemplates becoming the second clarino player in the ensemble.